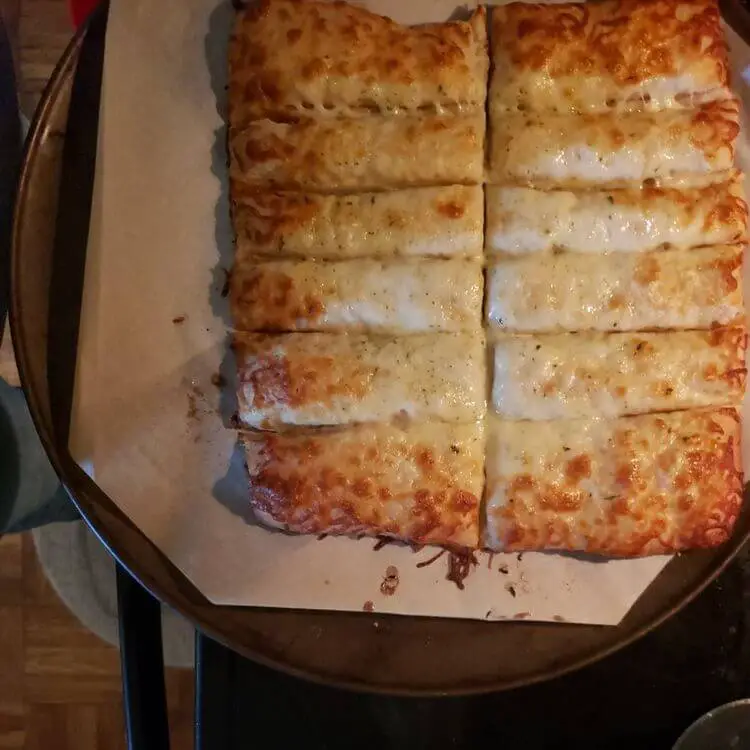 Cheesy Garlic Bread sticks are quick, easy to make, and the best snack and side you can ask for. The crispy top, cheesy gooeyness, and intense savory flavor of garlic will make your taste buds dance with excitement.

What to serve with Cheesy Garlic Breadsticks?
Serve cheesy garlic breadsticks with your favorite dips and sauces. Here are a few ideas:
Marinara sauce: The tomatoes richness and tanginess of marinara sauce are unmatched. It is simply delicious.
Ranch dip: Ranch dip is creamy and very tasteful. It is a good idea with this cheesy garlic breadstick recipe.
Spinach and artichoke dip: Spinach and artichoke dip is classic and very tasteful. You can serve it hot or cold. It will taste amazing in any way. It pairs really well with cheesy garlic breadsticks.
Cheese dip: If you are a cheese lover, there won't be enough cheese for you. You can serve these cheesy garlic breadsticks with a cheesy dip made with three types of cheeses.
Can you make Cheesy Garlic Breadsticks ahead of time?
Of course! Make these breadsticks ahead of time and store them in the refrigerator for about 4 to 6 hours. Plus, you can also freeze these breadsticks for about 4 hours. Then shift the breadsticks into a plastic Ziplock bag and freeze for up to a month.
Variation ideas
Although these cheesy garlic breadsticks are super easy to make here are a few ideas that will help you get even better flavors:
Homemade dough: You can use homemade pizza dough as well. The homemade dough will add tons of flavors and texture to these breadsticks.
Dried herbs: You can use dried oregano, dried thyme, dried basil, and dried rosemary instead of Italian seasoning as well.
Cheese: For a stingy effect, use Monterey Jack.
Spices: Sprinkle breadsticks with red pepper flakes and paprika powder.
Cheesy Garlic Breadsticks: The Recipe
Preparation Time: 10 minutes
Cooking Time: 15 minutes
Total Time: 25 minutes
Servings: 8
Ingredients
1 tube pizza dough prepared
2 cup mozzarella shredded
½ cup parmesan cheese
¼ tbsp butter, melted
2 tbsp olive oil
1 tsp garlic, minced
1 tsp Italian seasoning
1 tsp fresh parsley, chopped
Black pepper, to taste
Salt, to taste
Preparation
In a bowl, add melted butter, olive oil, minced garlic, Italian seasoning, parsley, salt, and black pepper. Mix well and set it aside.
Place the pizza dough on a parchment-lined baking tray. If it needs rolling, roll it until it is ½ inch thick.
Using your fingers or a brush, brush the butter and garlic mixture generously over the dough.
Sprinkle mozzarella cheese and parmesan cheese on top.
Place the baking tray in a preheated oven for about 15 minutes at 400 degrees F or until the top is golden brown and bubbly.
Once done, take the baking tray out of the oven and let it cool down a bit.
Using a sharp knife, cut it into equal rectangular pieces and serve.