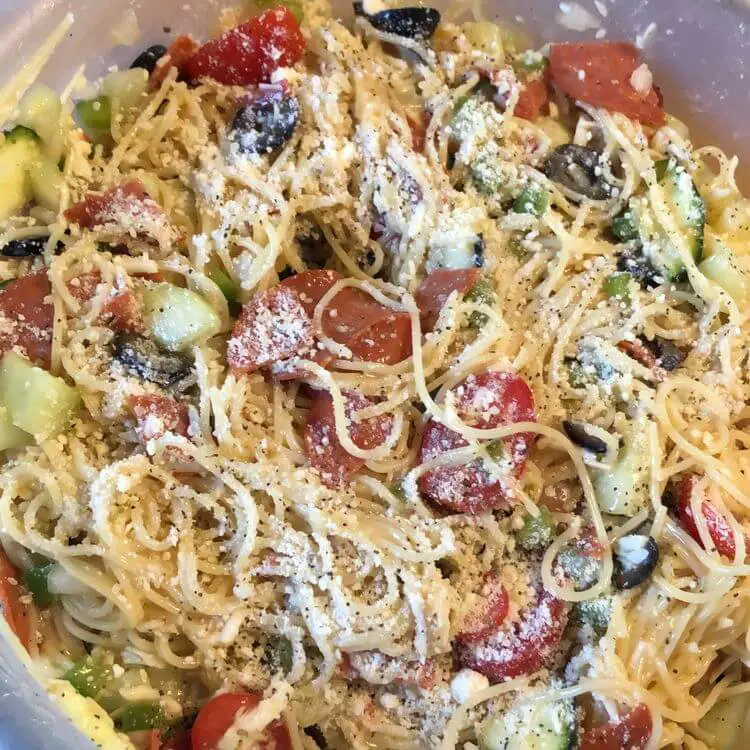 The California Spaghetti Salad is a beautiful spaghetti salad topped with spicy Italian dressing and loaded with great fresh vegetables. With all of those tastes and colors combined to create one stunning and wonderful side dish, there is no doubt that this will be the hit for your future event!
Among all the continuous backyard bonfires, the lake-front picnics, and overall summer fun, you be the one to deliver the best Pasta salad anybody can ever have.
It's just a massive bowl of chewy noodles, vibrant vegetables with the most fabulous Italian salad dressing you'll ever eat. And, unlike the other recipes you may find on the Internet, this one has a sauce created from scratch.
With this salad, you indeed cannot go wrong! It is ideal for preparing ahead of time since it improves flavor as it sets. You can choose to give it to your kids' lunches as a variety from sandwiches every day. The excellent vegetables crammed within lend texture, taste, and color to the pasta. The spicy Italian vinaigrette that coats this spaghetti is very delicious. It's even the ideal complement to this pasta salad. It's simple to prepare at home and quite tasty! I put it on a variety of salads, not just his one! Believe me when I say that his California Spaghetti salad will be a smashing success everywhere t goes.
Ingredients:
Get one pound of thin and cut into 1 inch pieces spaghetti
3 large diced tomatoes
2 medium-sized and diced zucchini
1 large and diced cucumber
A sweet red pepper
A large red onion
2 cans of sliced and drained ripe olives
The Salad Dressing Ingredients:
1 bottle of Italian Salad dressing
1/4 cup of grated Parmesan cheese
1 tablespoon of sesame seeds
2 tablespoons of poppy seeds
1 teaspoon of paprika
1/2 teaspoon of celery seed
1/4 teaspoon of garlic powder
Instructions:
Take the pasta, drain it, rinse it in some cold water, and then make it according to the packages.
Start combining all the ingredients, then you can add the cherry tomatoes, cucumber, zucchini, green and red pepper, olives, and onion to the pasta, all in a large bowl.
Mix the ingredients, starting with the Italian salad dressing, sesame seed, Parmesan cheese, paprika, etc.…
Finally, take the salad and toss it in the dressing until it's well coated, then cover it and leave it refrigerated for about 3 hours or overnight.