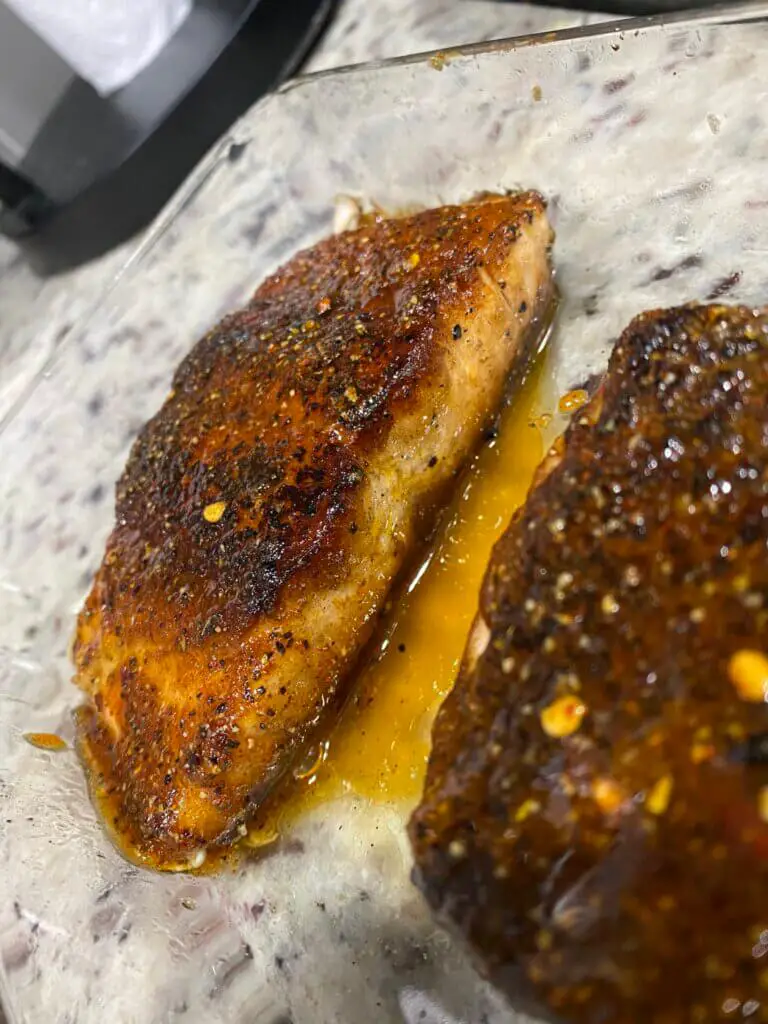 Cajun Honey Butter Salmon is a rich and delicious dish that you can enjoy on both weekdays and weekends. The flaky salmon drenched in Cajun spice, honey and butter is something you simply can't miss!
Can you make Cajun Honey Butter Salmon over the stovetop or air fryer?
Yes. You can cook Cajun Honey Butter Salmon over the stovetop. However, you have to keep an eye on the fish. It is better to let it cook on its own by placing a lid over the pan. Also, you will have to flip the fish halfway into the cook to ensure it is cooked through.
You can also cook this dish in an air fryer. Place an aluminum foil over the air fryer basket and air fry for about 13 minutes at 380 degrees F. flip halfway into the cook for perfect results.
What to serve with Cajun Honey Butter Salmon?
Cajun honey butter salmon goes well with several sides. Here are a few to name:
Mashed potatoes: Fluffy, creamy and rich mashed potatoes go well with everything.
Roasted vegetables: Serve this salmon dish with your favourite roasted vegetables like broccoli, Brussel sprouts, carrots, potatoes, asparagus etc.
Rice: Serve these with garlic rice. This dish goes well with both white and brown rice.
Quinoa: You can also serve it with quinoa.
Salad: Salam pairs really well with the fresh or creamy salad. You can serve it with your favourite salad and enjoy.
How to store Cajun Honey Butter Salmon?
Store the leftover salmon by placing it in an air-tight container and refrigerating for up to 3 days.

Cajun Honey Butter Salmon– The Recipe
Preparation time: 5 minutes
Cooking time: 13 minutes
Total time: 18 minutes
Servings: 2
Ingredients:
2 Salmon Fillets
3 tbsp butter, at room temperature
¾ tbsp Olive Oil
1 clove of garlic, minced
3 tbsp Honey
¾ tsp Dried Parsley Flakes
2 tsp Cajun seasoning
¼ tsp Freshly Ground Black Pepper
Salt, to taste
Fresh Cilantro for Garnish
Preparation:
In a bowl, add Dried Parsley Flakes and Cajun seasoning, black pepper and salt. Mix well and set aside.
In another bowl, add softened butter, minced garlic and honey. Mix well and set aside.
Using a kitchen towel, pat the salmon dry and drizzle olive oil over each fillet.
Season the salmon generously with a dry spice mixture.
In an oven-safe skillet, add a dash of olive oil and place marinated salmon fillets on top.
Place about 1 ½ to 2 tbsp. Of butter and honey mixture on each salmon piece. Set the leftover mixture aside.
Place the skillet in a preheated oven at 400 degrees F for about 10 to 13 minutes or until the internal temperature of 145 degrees F or until the fish is flaky.
Once the fish is in 8 minutes into the cook, add the leftover honey butter mixture.
Once the fish is cooked, remove it from the oven. Garnish with freshly chopped cilantro leaves and serve alongside your favourite side. Enjoy!