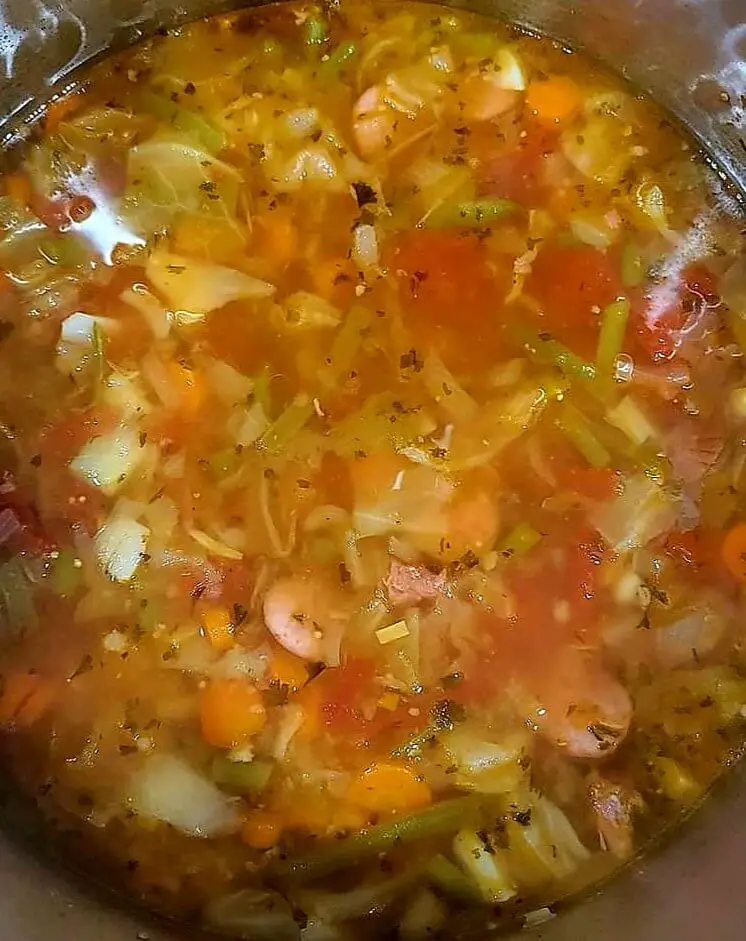 Cabbage soup is a type made with cabbage as a primary ingredient. It is typically made with other vegetables, such as onions, carrots, celery, and potatoes. The soup can be either vegetarian or non-vegetarian, depending on the ingredients used. It is often served with bread or crackers on the side.
Variation Ideas:
Meat: Cabbage soup with meat is the perfect solution! This delicious soup is packed with protein and flavor and will surely leave you feeling satisfied. You can add ground beef or sausage to the soup. This will give the soup a richer flavor and make it more filling.
Coconut Milk: Coconut milk is a delicious and creamy addition to any soup, but it especially pairs well with cabbage soup. It ensures the soup has a creaminess to it.
Vegetables: If you're looking for a bit of extra color in your soup, zucchini or squash is a great option. This vegetable pairs well with the other flavors in the soup and can help to add some brightness to the dish. Spinach also goes great in cabbage soup.
Noodles: adding noodles to this soup makes it heartier and wholesome.
How to store Cabbage Soup?
Here are a few tips on how to store your cabbage soup so it will stay fresh and delicious.
Transfer the soup to an airtight container. This will help keep out moisture and preserve the flavor of the soup. Leave an inch space in the container.
Label the container with name of the soup and the date. This will save you time (and frustration) later on when you're trying to find a particular leftover meal in your freezer.
Place the container of soup in the freezer, where it will stay cold and fresh for up to three months.
Cabbage Soup – The recipe
Preparation time: 15 minutes
Cooking time: 35 minutes
Total time: 50 minutes
Servings: 4
Ingredients:
1 ½ tbsp. olive oil
1 small yellow onion, diced
3 garlic cloves, grated
7 cups green cabbage, diced
2 medium carrots, diced
2 medium Yukon gold potatoes, diced
1 celery rib, diced
1 ½ cups canned cooked white beans, drained and rinsed
3 cups canned fire roasted tomatoes, diced
3 cups vegetable broth
1 ½ tbsp. white wine vinegar
¾ tsp. Italian seasoning
½ tsp. sea salt
Pinch of black pepper
Fresh parsley, for garnish
Preparation:
On the cutting board, chop carrots and cabbage and dice onion, potatoes, onion and celery.
Pour oil into a large saucepan over medium heat. Add diced celery, pepper, salt, diced onion and chopped carrots, and cook for 8 minutes, stirring occasionally.
Add vinegar and mix well. Then add Italian seasoning, chopped cabbage, diced potatoes, garlic, beans, broth and tomatoes, cover the saucepan with a lid and allow the mixture to simmer for 25 to 30 minutes until cabbage and potatoes are soft.
Once done, remove from heat, transfer to the serving bowls and serve hot with parsley garnishing.