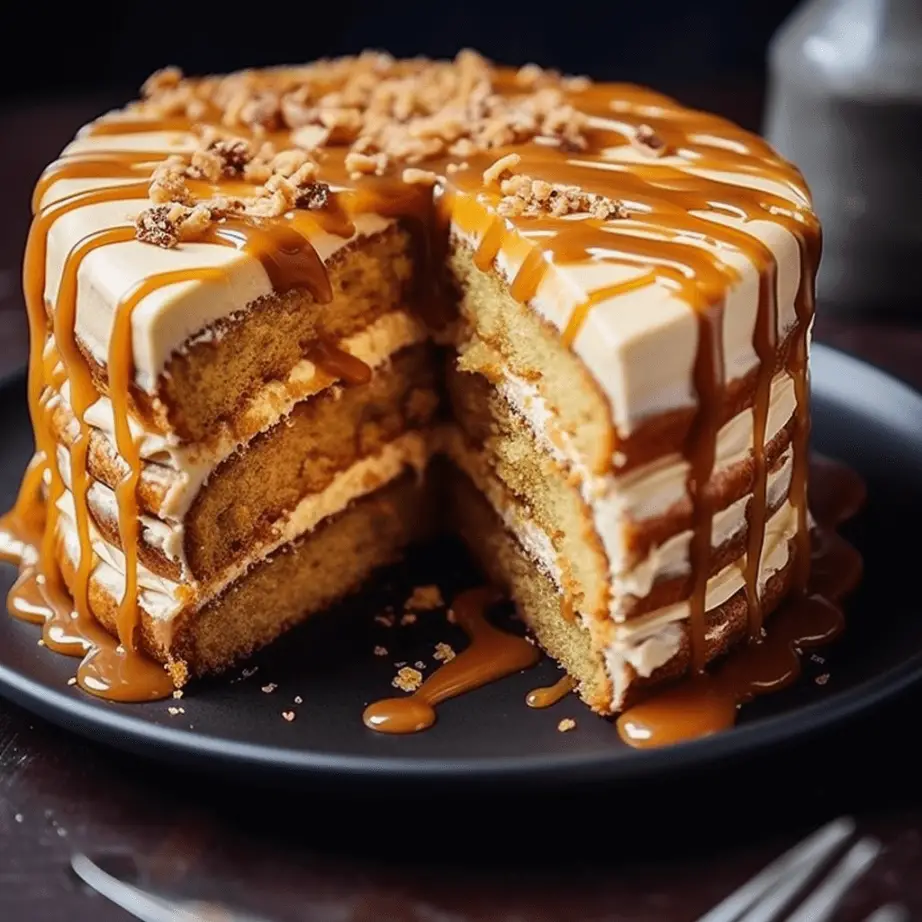 Hello, dear friends! 🍰 Ever wondered what a slice of heaven tastes like? Well, today, I'm about to introduce you to a cake that's as close to celestial delight as it gets. Picture this: a soft, pillowy cake bursting with rich butterscotch flavor, all crowned with a luscious caramel drizzle. If your taste buds aren't dancing already, they will be soon!
Why is this Butterscotch Bliss Cake different from other butterscotch cakes?
Our recipe combines the warm, comforting tones of brown sugar with melted butterscotch chips. This dual combo ensures that every bite is bursting with authentic butterscotch flavor, making it stand out from the rest!
I'm not a professional baker. Is this recipe beginner-friendly?
Absolutely! Our step-by-step guide is designed for bakers of all levels. With clear instructions and a touch of love, anyone can create this delightful masterpiece.
Can I make this cake for special occasions?
Definitely! Its elegant presentation and delectable taste make it a hit for birthdays, anniversaries, or even a weekend treat. Just remember to snap a picture before it's all gone!
Is this cake heavy or light? I'm thinking of pairing it with a beverage.
The cake has a medium density – it's moist and rich but not overly heavy. It pairs wonderfully with a glass of cold milk, a cup of coffee, or even a light dessert wine!
How do I store leftovers, if there are any?
If you're lucky enough to have leftovers, simply store the cake in an airtight container at room temperature for up to two days. For longer storage, refrigerate it. But trust me, it's so delicious, there might not be any left!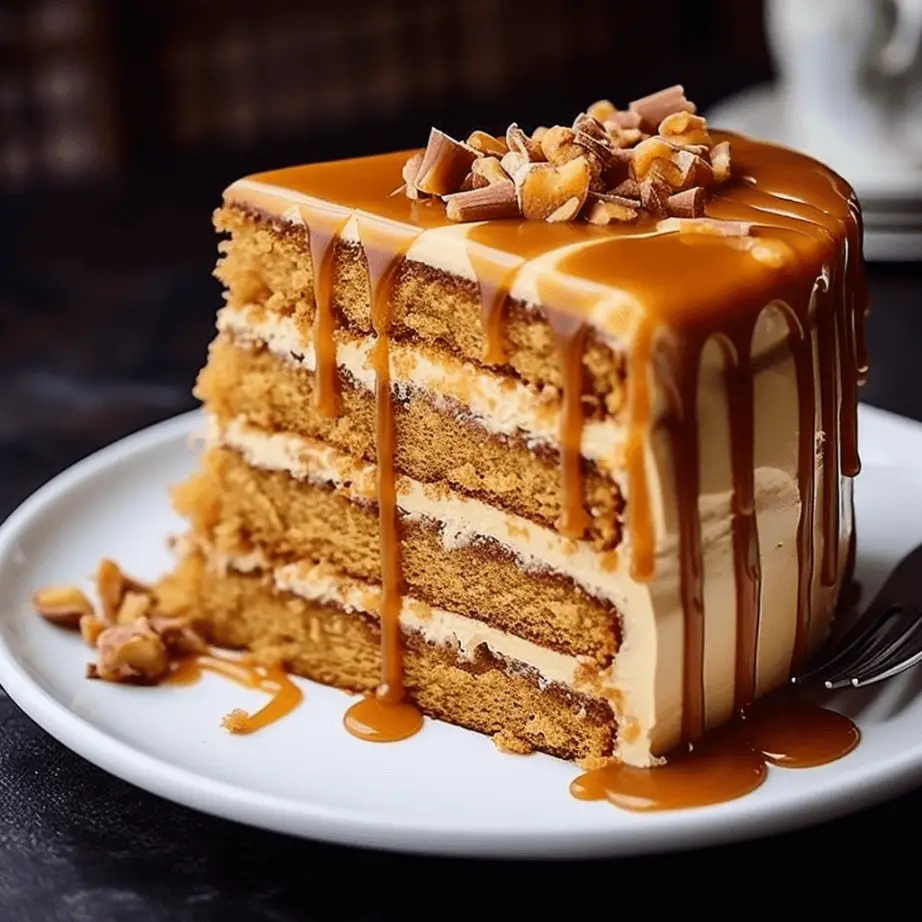 Prep Time: 20 minutes
Cook Time: 25-30 minutes
Total Time: 45-50 minutes
Ingredients:
Ingredients for Butterscotch Symphony Cake:
All-Purpose Flour: 2 1/2 cups
Baking Powder: 2 1/2 tsp
Salt: 1/2 tsp
Brown Sugar: 1 1/2 cups, snugly packed
Creamy Butter: 1/2 cup, awaiting at room temp
Eggs: 2 large beauties
Vanilla Essence: 1 tsp
Milk: 1 cup
Golden Butterscotch Morsels: 1/2 cup, in their molten state
Ingredients for Glossy Caramel Cascade:
Butter, the unsalted kind: 1/2 cup
Caramel-toned Brown Sugar: 1 cup
Milk: A gentle 1/4 cup pour
Confectioners' Sugar: 1 1/2 to 2 cups
Vanilla Essence: 1 tsp
Instructions:
Turn oven to 350°F. Grease and flour two 8-inch cake pans to prevent sticking.
Whisk flour, baking powder, and salt in a bowl.
Blend butter and brown sugar until creamy. Introduce eggs one at a time, mixing thoroughly. Add vanilla.
Gradually mix in dry ingredients and milk, starting and finishing with the dry mix.
Stir in melted butterscotch chips.
Divide batter between pans. Bake for 25-30 minutes or until toothpick test is clean.
Allow cakes to rest in pans for 10 minutes, then transfer to a cooling rack.
Melt butter in a saucepan. Stir in brown sugar, then boil and reduce to simmer for 2 minutes.
Add milk, bring to boil again. Once off the heat, incorporate powdered sugar gradually. Stir in vanilla last.
Layer one cake, spread caramel, then top with the second cake. Coat with remaining caramel to your preference.
Cooking tips:
Measure ingredients before starting to save time.
Eggs and butter at room temperature mix more easily.
Use an oven thermometer to ensure proper temperature.
Overmixing batter can result in a dense cake.
Test baking powder's freshness with a bit in water. It should fizz.
Check cake doneness with a toothpick — it should come out clean.
Let baked goods cool in the pan briefly before transferring to a rack.
Always use sharp knives for clean cuts and safety.
Never leave a hot stove unattended.
Adjust seasonings as needed for optimal flavor.