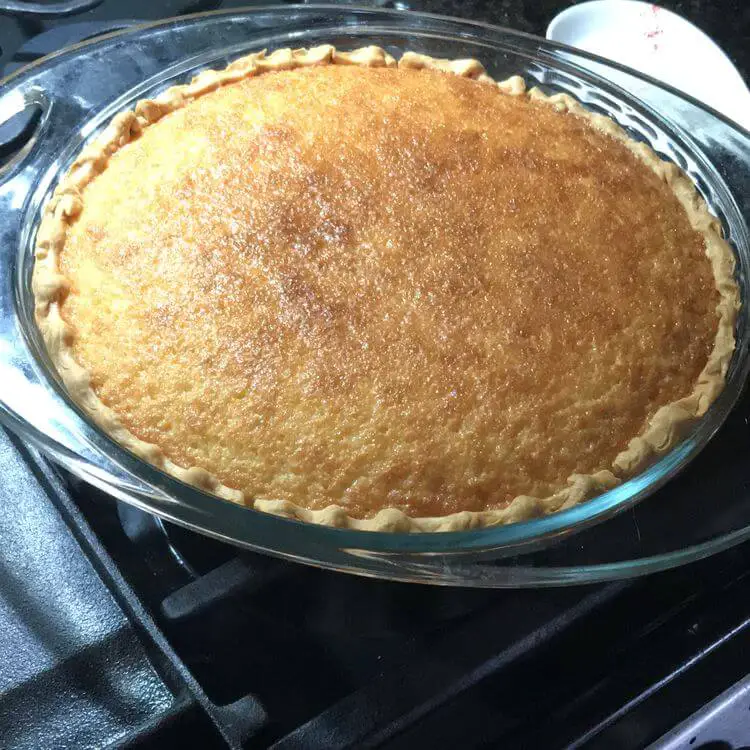 Although originating in the United Kingdom, Buttermilk Pie has been a staple in pie hutches across the South for generations. This recipe for Buttermilk Pie brings you the same creamy custard-like texture with a little less sugar.
I've been going through recipes on the site to find glaring omissions; Buttermilk Pie is certainly one of those! I couldn't imagine that I hadn't already published it. So, I was talking to a friend of mine who said she'd never eaten Buttermilk Pie! gasp
Trying to describe it in a way she'd instantly understand, I said it was like crème brûlée in a pie. She was all for it!
And it could not be easier to make! Buttermilk Pie consists of beaten eggs, melted butter, sugar, flour, buttermilk, vanilla, and a pinch of nutmeg. You don't even need your mixer! Just whisk the ingredients together in a bowl, pour it into a pie crust, and bake.
As the pie bakes, the custard is formed and the top caramelizes into a thin sugary crust. As with all custard pies, they benefit from a pan of water placed in the oven. This creates a moist environment for the pie to bake in, which is beneficial in two ways: 1: The moisture in the oven will keep the custard from becoming tough and 2: it will help prevent cracking. Some people recommend a bain-marie (or water bath…baking the pie in a shallow dish containing water); I prefer placing a shallow pan of water on the shelf below the pie.
It is so easy to use! Just gently lay the lightweight shield over your pie crust once the crust has reached the golden color you prefer. No more burnt pie crust!
Once baked, the pie must cool. It is best eaten at room temperature, but this pie is also well served cold. So, it's a great recipe for entertaining because it can be prepared ahead.
If you've never eaten a buttermilk pie, you really need to try this! If you love buttermilk pie, make this one!
Ingredients:
5 eggs (room temperature), beaten
1⅔ cup granulated sugar
4 tablespoons all-purpose flour
Pinch of nutmeg (fresh grated is best)
½ cup butter (8 tablespoons), melted, cooled slightly
1 teaspoon vanilla extract
1⅓ cups buttermilk (room temperature)
9½" deep dish pie crust
Instructions:
Preheat the oven to 350°F.
Place a shallow pan (I use a 9 x 13 baking dish) filled halfway with water on the baking shelf below the center rack.
In a large bowl, beat the eggs with a whisk.
Add the sugar, flour, and nutmeg and whisk to combine and remove any flour lumps.
Combine the melted (cooled) butter, vanilla, and buttermilk (adding the melted butter to the buttermilk first will help cool it further and keep it from curdling the eggs).
Pour into the egg mixture and whisk to combine and pour into the prepared pie crust.
Place into the preheated oven and bake for 50-60 minutes, or until the center is set and the top is golden. You may need to place a pie shield over the crust so it won't over-brown.
Notes:
This recipe is best if the eggs and buttermilk are brought to room temperature before use in the recipe.