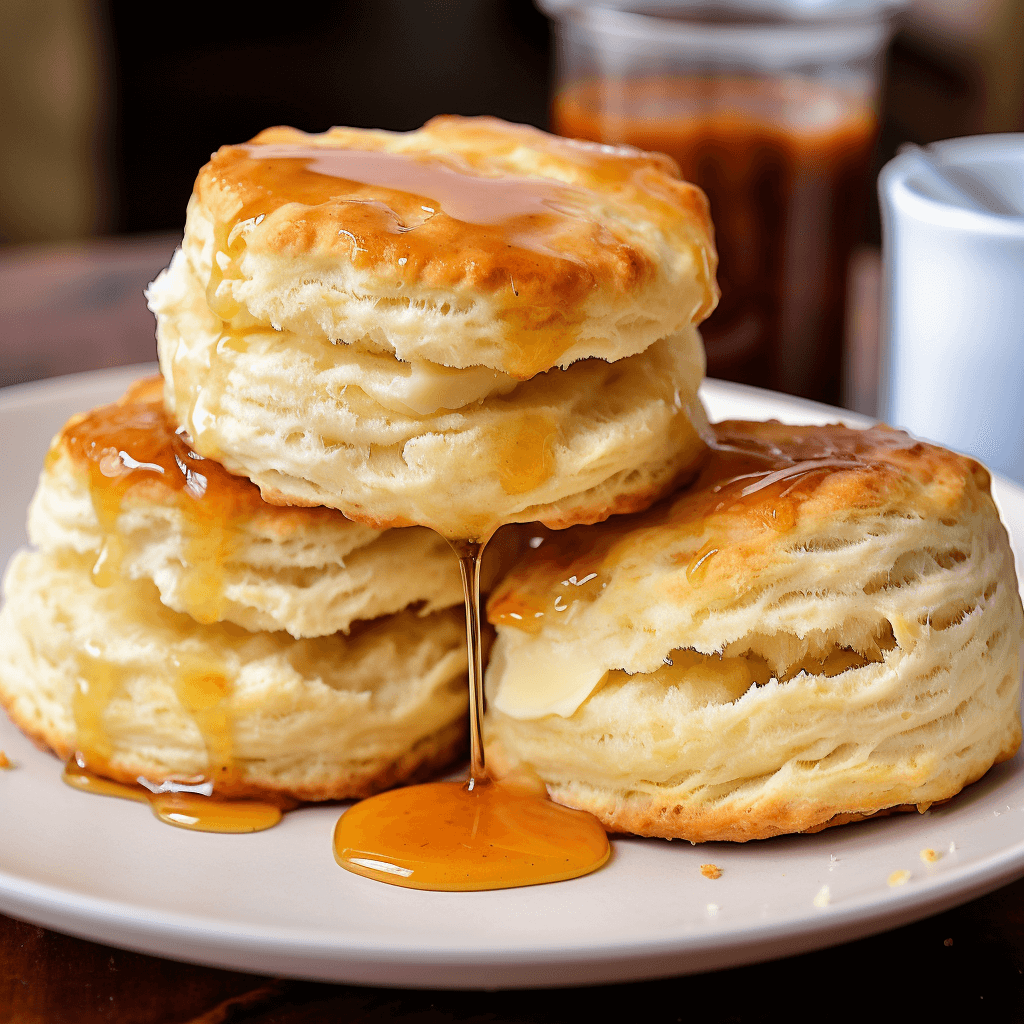 Hey there, lovely readers! 🌟 How does your ideal day look like? Does it include the aroma of freshly baked goods wafting through your home? How about taking that first bite of a warm, flaky biscuit that melts in your mouth? If you're nodding along, you're in for a treat today!
We're diving into the world of buttermilk biscuits—the epitome of comfort food. Trust me, once you make these, you'll wonder why you ever settled for store-bought versions. Perfect for breakfasts, side dishes, or even as a snack, these buttermilk biscuits are as versatile as they are scrumptious. So, why should you try this recipe? Because life's too short to eat mediocre biscuits!
How easy is it to make these buttermilk biscuits?
So easy that you'll wonder why you haven't been making them your whole life! With just a handful of basic ingredients and no special equipment required, you'll be a biscuit-baking pro in no time.
I don't have buttermilk. Can I still make these biscuits?
Absolutely! You can make a quick buttermilk substitute by adding a tablespoon of lemon juice or white vinegar to a cup of regular milk. Stir and let it sit for a few minutes, and voilà—you're ready to go!
What's the best way to enjoy these biscuits?
Oh, the possibilities! Slather them with butter, drench them in gravy, or sandwich them with your favorite fillings. These biscuits are the perfect canvas for all your culinary creativity!
Why should I choose this recipe over others?
This recipe combines ease, flavor, and foolproof tips to ensure you get the most delicious, melt-in-your-mouth buttermilk biscuits. Plus, they are incredibly versatile and ideal for any occasion—or no occasion at all!
Let's Get Baking!
Ingredients :
2 cups all-purpose flour
2 tablespoons granulated sugar
1 tablespoon baking powder & 1/4 teaspoon baking soda
1 teaspoon fine salt
6 tablespoons ice-cold unsalted butter
1 cup chilled buttermilk
Instructions :
preheat your oven to 450°F (230°C). Line a baking sheet with parchment paper for easy cleanup. A hot oven is key for sky-high biscuits!
In a roomy bowl, sift together the flour, sugar, baking powder, baking soda, and salt. This ensures a smooth texture and even rise.
Add the ice-cold butter bits to the sifted dry mix. Use a pastry blender or your own two hands to work the butter into pebble-sized pieces. These buttery pebbles will melt in the oven, creating the flaky layers of your dreams.
Dig a well in the center of the dry ingredients and pour in your cold buttermilk. Gently mix until it's just together. The motto here is "less is more"—no one wants tough biscuits!
Turn the dough onto a lightly floured surface, gently pressing it into a 1-inch thick round slab. Cut the slab into 8-10 wedges using a sharp knife.
Place the cut wedges on the prepared sheet and bake them for 10-12 minutes. Wait for the golden-brown magic to happen.
After they're baked, let them chill for a bit on the baking sheet to keep their shape, and then they're ready for munching!
A Few Baking Hacks:
Super Layers: For ultimate flakiness, freeze your butter before adding it.
No Pastry Blender?: Your fingers or a fork will do the job.
In a Rush?: Freeze the shaped biscuits and bake them directly from the freezer later, just add a few more minutes to the bake time.
So there you have it, your foolproof guide to delectable buttermilk biscuits! They're perfect for any meal, or even just as a snack. Let's make every day a biscuit day!
Cooking tips:
Heat Oven to 450°F: Ensures a lofty rise.
Ultra-Cold Butter: More flakiness.
Avoid Overmixing: Tender biscuits guaranteed.
Sieve Dry Ingredients: For a silky texture.
Use a Sharp Knife: Helps with even rising.
Let Biscuits Sit: Improves baking results.
Freeze for Later: Add extra minutes when baking.
Cool on Sheet: Maintains biscuit shape.
Airtight Storage: Keeps them fresh.
Microwave to Revive: Instant freshness.
Ready, set, bake! 🌟🍞