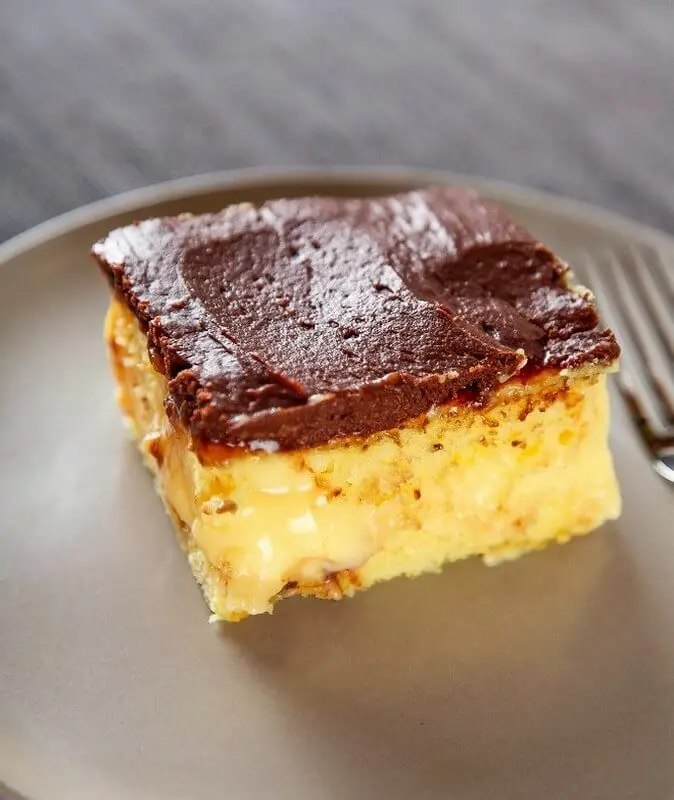 Boston, cream poke cake, is yet another unique dessert you can serve to your guests. with a simple yellow cake base, this cake is drenched in the pudding and is topped with a homemade rich chocolate ganache. This poke cake is delicious, soft, and loaded with richness from pudding in every flavor. Above all, it is super quick and effortless to make.

Boston Cream Poke Cake: The Recipe
Preparation time: 20 minutes
Cooking time: 25 minutes
Total time: 45 minutes
Servings: 6 to 8
Ingredients
1 package yellow cake mix
2 packs instant vanilla or French pudding mix
½ tsp vanilla extracts
4 cups whole-fat milk
1 ¼ cups chocolate chips, semi-sweet
1 cup heavy cream
1 tbsp butter
Directions:
Prepare the yellow cake mix by following the instructions. You will need to add oil, egg, and milk.
Pour the cake mixture into a rectangular baking pan and bake in a preheated oven for about 25 minutes or until the cake is ready. You can follow the instructions available on the cake mix box.
Once the cake is ready, let it cool down a bit.
Meanwhile, add pudding mix in a large bowl. Pour milk and vanilla extracts and whisk for about 3 to 5 minutes or until the two ingredients are well combined and there are no lumps. You will get a slightly thick but runny mixture.
When it is cool but still warm, poke holes using a bamboo stick or the back of a wooden spoon. Make sure the holes are not tiny but are visible and relatively large, large enough for the pudding to penetrate the cake.
Pour the prepared pudding over the cake along its length. You can spread it using the back of the spoon.
Put the castle cake in the fridge for about one hour.
Add the chocolate chips and butter to a medium bowl.
Warm the heavy cream over medium heat until it starts to quiver. You can heat it in the microwave as well.
Pour the simmering heavy cream over butter and chocolate chips and let them sit for about 2 to 3 minutes.
Mix so that everything is well combined, and you get a smooth mixture.
Let it sit until it reaches room temperature.
Take the cake out of the refrigerator, pour the chocolate ganache on top, and spread it using a spatula.
Place the cake back in the refrigerator for about 4 hours until it is chilled.
Serve.
Notes:
When buying pudding mix for this recipe, make sure you choose instant pudding mix. You don't need to cook this pudding; thus, it is perfect for this recipe.
You can easily bake a cake using a yellow base mix. You can find all the details, ingredients, and measurements at the back of the box. It is super quick and convenient.
You can skip making chocolate ganache and use pre-made chocolate frosting as well. It is convenient and a quick solution.