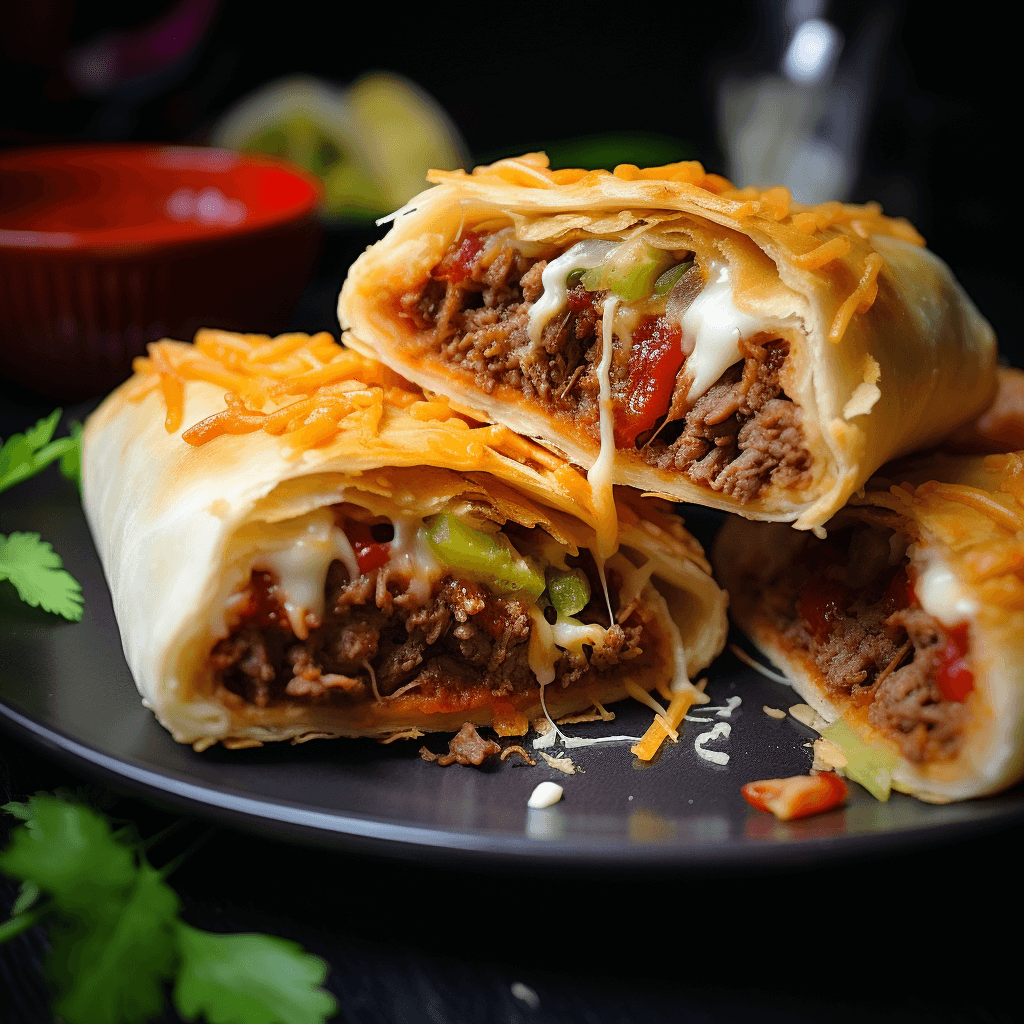 Hey there, foodie friends! Welcome back to Life with Jeviko, your go-to spot for delectable recipes and mouthwatering eats. If you're like me and crave the deep, rich flavors of Tex-Mex cuisine, today's your lucky day. I'm serving up a family favorite that has everyone at my dinner table asking for seconds—Beef and Cheese Chimichangas!
Can I use chicken instead of beef?
Absolutely! Chicken works beautifully with this recipe. Just make sure to cook it thoroughly before adding it to the mix. It's a great alternative for those who prefer poultry or are looking for a lighter option.
Can I freeze these chimichangas for later?
You sure can! After assembling them, wrap each chimichanga individually in plastic wrap and then put them in a zip-top bag. They'll be good for up to a month in the freezer. When you're ready to enjoy them, either fry them from frozen or bake them, extending the cooking time by a few minutes.
Can I make these spicy?
If you're a spice enthusiast like me, feel free to add a pinch (or more!) of cayenne pepper to your beef mixture. It will add that extra zing you're looking for.
I don't have refried beans. Can I use black beans instead?
Of course! If you're using canned black beans, drain and rinse them first. Mash them slightly to get that creamy consistency that melds so well with the other ingredients.
Prep Time: 20 minutes
Cook Time: 25 minutes
Total Time: 45 minutes
Ingredients:
1 pound of ground beef (that's approximately 450 grams for our international pals)
1/2 cup diced onion
1 clove of garlic, finely chopped
1 teaspoon chili powder (add more for an extra kick!)
1/2 teaspoon ground cumin (oh, that earthy aroma!)
1/4 teaspoon salt
1/4 teaspoon freshly ground black pepper
1 can (15-ounces) refried beans
1 can (8-ounces) tomato sauce
1 cup cheddar cheese, shredded
6 flour tortillas (10-inch size)
Vegetable oil for that crispy finish
instructions :
Begin by cooking the ground beef in a large skillet over medium heat. You'll know it's ready when it turns a deliciously caramelized brown. Drain off the excess grease to keep the filling from becoming too oily. Trust me, your stomach will thank you!
Toss in your diced onion and garlic into the skillet. Cook these until they're soft and translucent. The onion adds sweetness, while the garlic gives a punch of flavor.
Add chili powder, cumin, salt, and black pepper. Stir everything together and let it cook for a minute. These spices bring the aroma and flavors that make this dish authentically Tex-Mex!
Add the refried beans and tomato sauce. Mix until the beef and beans become best friends. Lower the heat and simmer until the sauce thickens. This will make the filling ultra-luscious.
Lay out a tortilla and spread a generous 1/4 cup of your beefy-bean filling down the middle. Sprinkle about 1/4 cup of shredded cheddar on top. The cheese will act like tasty glue as it melts.
Fold up the bottom part of the tortilla over the filling. Tuck in the sides and roll it tightly, like you're wrapping a delicious present.
Continue with the rest of the tortillas and filling. Line them up like Tex-Mex soldiers waiting for their crispy transformation!
In a large skillet, heat about an inch of vegetable oil over medium heat. This is where the magic happens, folks.
Carefully place the chimichangas in the hot oil. Fry them until they turn a tantalizing golden brown, about 2-3 minutes per side.
Once they're crispy and irresistible, remove them from the oil and drain on paper towels. Serve these beauties hot, garnished with your favorite toppings like sour cream, guacamole, and salsa.
Cooking tips:
For a more luxurious filling, consider using lean ground beef. It offers a great texture without the extra grease.
Feel like amping up the heat? Toss in some crushed red pepper flakes alongside the chili powder for that extra kick of spiciness!
While refried beans are my go-to, you can experiment with pinto or black beans. Just give them a good mash before adding to keep that creamy texture we all love.