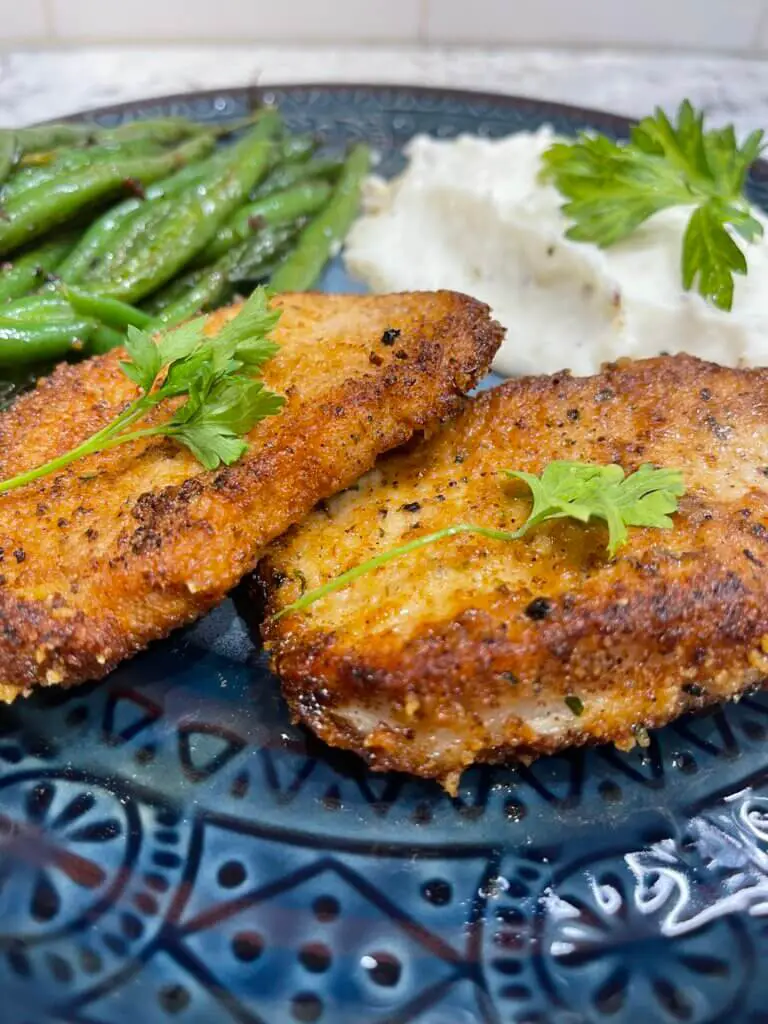 Baked Parmesan Crusted Pork Chops is a quick and tasteful dish that you can easily make for your friends and family for dinner. They are made with minimum oil and are simply mouth-watering.
What to serve with Baked Parmesan Crusted Pork Chops?
Here are a few amazing side dishes you can serve with baked parmesan crusted pork chops:
Mashed potatoes: Light, creamy and fluffy mashed potatoes go well with almost everything. And when you have baked parmesan-crusted pork chops for dinner, mashed potatoes seem like a perfect side dish. The crispy crust of the pork chops and buttery mashed potatoes is just a perfect pair.
Coleslaw: Refreshing and crunchy coleslaw is an ideal side dish with pork chops.
Salad: You can serve it with fresh garden salad, creamy potato salad, or chickpea salad. The freshness of the salad and the juicy pork chops are a good combination.
Roasted vegetables: Try roasted vegetables like broccoli, cauliflower florets, asparagus, potatoes, etc., with pork chops.
French onion soup: If you are looking for something heartwarming, try serving pork chops with French soup.
How to store Baked Parmesan Crusted Pork Chops?
You can store the leftover baked parmesan-crusted pork chops by placing them in an airtight container and storing them in the refrigerator for up to 3 days. Simply reheat in the oven.
Moreover, you can also freeze baked parmesan-crusted pork chops. Ponce they are cool, place them in a food-grade plastic zip lock bag and freeze for up to a month. You can reheat them in the oven until they are warm and good to go.
Baked Parmesan Crusted Pork Chops – the Recipe
Preparation time: 10 minutes
Cooking time: 30 minutes
Total time: 40 minutes
Servings: 2
Ingredients:
4 boneless pork chop, ½-inch thick
1/3 cup Parmesan cheese, grated
½ cup Panko breadcrumbs
1 large egg
2 Tbsp whole milk
½ tsp onion powder
¼ tsp garlic powder
¼ tsp celery salt, divided
¼ tsp Italian seasoning
¼ tsp black pepper
2 tbsp butter, melted
Preparation:
In a bowl, crack, and egg. Add milk, a pinch of celery salt, and black pepper. Whisk the egg so that everything is well combined.
Mix panko breadcrumb, parmesan cheese, onion powder, garlic powder, celery salt, and Italian seasoning on a plate. Mix well.
Pat the pork chops dry using a kitchen towel.
Season them generously with salt and dip each pork chop first in the egg wash and then in the breadcrumb mixture. Pat it so that the breadcrumbs stick to the pork chops.
Prepare the baking tray by lining it with parchment paper. Spray with cooking spray.
Place the breaded pork chops onto the baking tray. Drizzle melted butter on top of the pork chops.
Place the baking tray in a preheated oven at 350-degree f for about 30 minutes. To ensure you get the right browning, you can broil them for 5 minutes as well.
Once done, take them out of the oven and let them rest for about 5 minutes.
Serve.