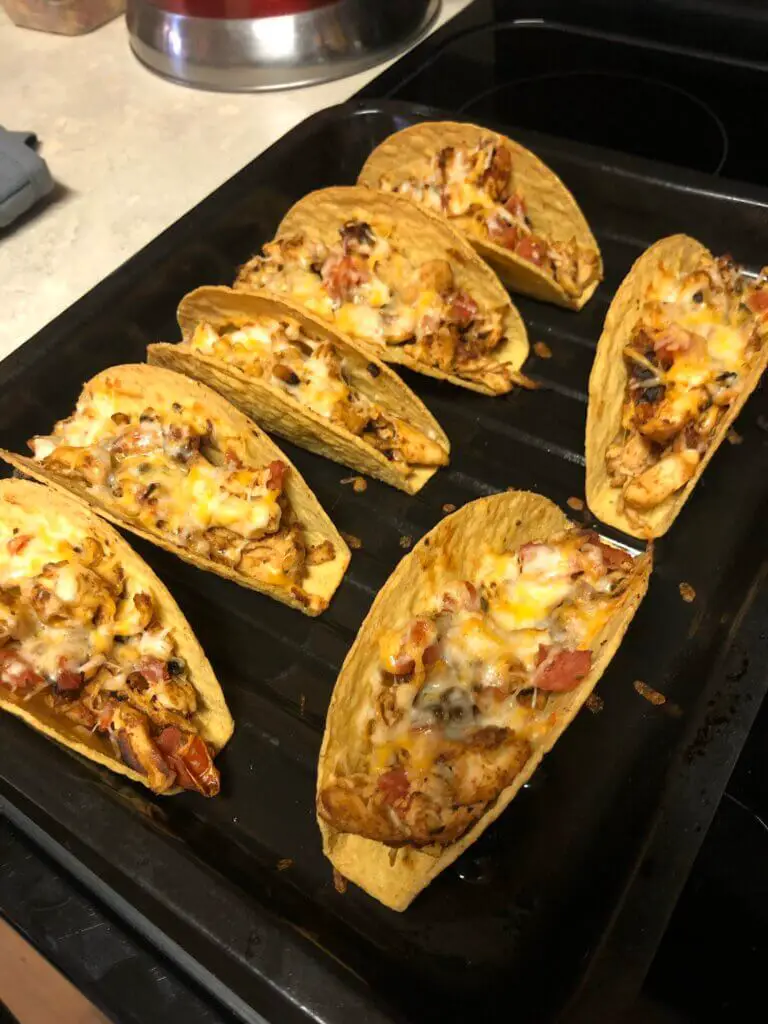 If you've been feeling a bit bored of chicken, then this simple recipe will be just the thing to get you out of a rut.
Tacos are delicious. Chicken tacos are even more delicious. Baked chicken tacos? Well, that's just a whole different level of deliciousness. I've always been a fan of tacos and Mexican cuisine in general. Tacos are one of my favorite foods not just because they're tasty, but they can be healthy too. A few years ago I started making my own tacos instead of buying them from restaurants. After a couple of years of trying different recipes, I've come to the conclusion that baked chicken tacos are definitely the best! That's why I am going to share my favorite recipe with you to try.
The flavors, the spices, and everything about it is absolutely amazing and you can't go wrong with giving it a try. So here's my recipe for baked chicken tacos so you can enjoy them by yourself or with friends or family!
Serving 12
Prep Time: 5 mins
Cook Time: 15 mins
Total Time: 20 mins
Ingredients:
12 taco shells
1 onion diced
1 tbsp oil
4 cups shredded chicken
2 cloves garlic, crushed
7 oz (200g) salsa
2 tbsp taco seasoning
1 cup refried beans
Toppings
1 and ½ cups shredded mozzarella, cheddar, or Mexican cheese blend
shredded lettuce
½ cup green chiles
Instructions:
Take a baking tray and arrange taco shells in it. Bake them in the oven at 350°F for 5 minutes.
Remove the taco shells from the oven after 5 minutes and set them aside.
Take a skillet and heat oil in it. Saute onion in it until translucent and soft. Then add garlic and cook until fragrant (at least 1 minute).
Add shredded chicken, salsa, and chicken. Cook for 2 minutes then turn off the heat.
Put 1 tablespoon of refried beans and chicken mixture in each taco shell. Then top it with shredded cheese.
Bake these stuffed shells for 4-5 minutes until the cheese is melted.
Your baked chicken tacos are ready. Remove them from the oven, top with sour cream, avocado, shredded lettuce, and chopped chilies. Serve!
Tips & Tricks:
Leave the taco shells for at least 5 minutes at room temperature before filling. It will save your tacos from getting soggy.
Use refried beans to separate juicy chicken and taco shells. It will help to stay your taco shells crispy. You can also use some cheese if you want.
Don't assemble the tacos, if you want to make them ahead of time. Prepare the ingredients and store them in an airtight container until ready to bake.
Simply increase the amount of ingredients, if you want to make for a larger group of people.
Tacos can be filled with beef, chicken, pork, seafood, and veggies. Tacos can be topped with salsa, cheese, sour cream, guacamole, lettuce, cilantro, and whatever else your heart desires.
You can serve baked chicken tacos with lots of drinks, dessert, sides, and other main dishes
We hope you enjoyed our recipe for Baked Chicken Tacos. This recipe is a great way to still get that taco flavor you love and enjoy chicken instead of beef or pork. We love tacos, and we hope you do too! Enjoy this crispy treat any time of year by making chicken tacos by following our recipe. If you're looking for more of our recipes, check out our Recipe Index.