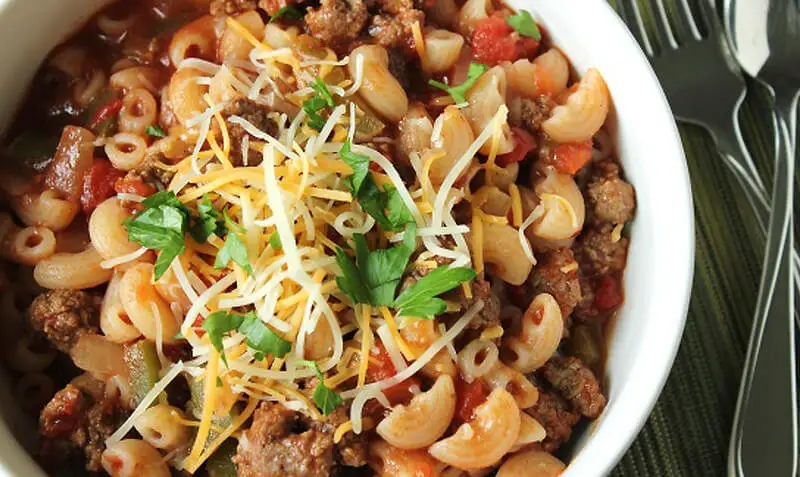 American Goulash is truly a classic of traditional American home cooking. It is also sometimes known as American Chop Suey. Some people add a can of corn, celery, thyme, bay leaves, green bell pepper is optional, a different type of cheese, or even no cheese at all. And you can also cook your pasta directly in the beef sauce… Save time and dishes! You can easily prepare a large quantity in a large casserole dish. The goulash is delicious the next day and reheats very well (add a little tomato juice when reheating, if it is too dry).
Ingredients:
500 g ground beef
1 onion
1 small green (or red) bell pepper
1 clove of garlic, chopped
1 large can of crushed tomatoes
35 cl of tomato sauce (you can replace it with ketchup)
500 g of macaroni
2 tablespoons of olive oil
salt, freshly ground pepper
grated cheddar cheese
Directions:
Peel and chop the onion. Peel, degerm, and chop the garlic. Cut the bell pepper in half, remove the seeds and dice it.
In a hot frying pan, large pot, or casserole dish, sauté the onion and diced bell pepper in a little olive oil. Once the onion is transparent, add the beef and brown for about 5-10 minutes: cook, stirring and breaking up the ground beef until the meat is no longer pink and starts to brown. If necessary, remove excess fat. Season with salt and pepper. Move the heart to the side of the pan and add the minced garlic on the free side. Let it fry for a few seconds, then add the crushed tomatoes and the tomato sauce. Simmer covered for about 15 minutes.
Meanwhile, cook the macaroni in boiling salted water according to the time indicated on the package. Once the pasta is cooked, drain it and mix it with the beef sauce.
Serve hot with grated cheddar cheese.