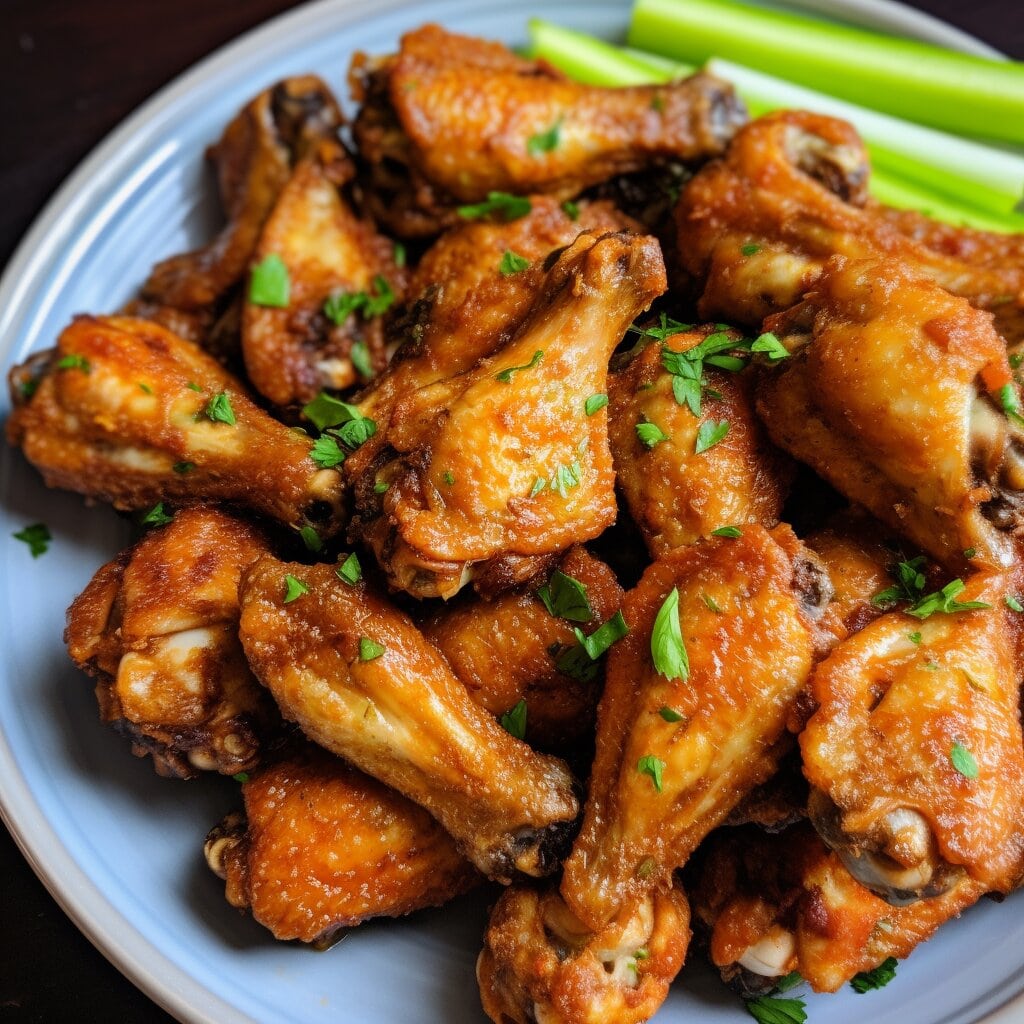 Alright, foodies, let's chat about a universal favorite – chicken wings. You might wonder, in the vast ocean of wing recipes, what makes this one stand out? The answer: the magic of the Air Fryer! Yep, those crispy, crunchy, melt-in-your-mouth delights are now healthier and quicker to prepare, without compromising on flavor.
Ever been to a party where the chicken wings stole the show? Dreamed of recreating that at home? Trust me, I've been on that journey, trying to replicate that perfect bite. Traditional frying got close, but the Air Fryer? Oh, it nailed it!
Crispiness – Is it legit?
Absolutely! The Air Fryer ensures every wing is cooked uniformly, resulting in an impeccable crunch with every bite.
A healthier twist, perhaps?
Spot on! Satisfy those cravings without the guilt. The minimal oil approach means fewer calories but tons of flavor.
Isn't it a complicated affair?
Quite the opposite! The Air Fryer is user-friendly, turning novices into pros in no time.
The go-to snack for hangouts?
Without a doubt! These wings will have your guests coming back for seconds… and thirds.
Play with flavors – a possibility?
Oh, for sure! This recipe is your canvas. Splash it with your favorite flavors and make it your own.
Prep Time: 10 minutes
Cook Time: 25 minutes
Total Time: 35 minutes
Ingredients:
2 lbs chicken wings (around 20 in number)
1 tbsp olive oil
1 tsp salt (adjust according to taste)
1/2 tsp black pepper
1/2 tsp garlic powder
1/2 tsp onion powder
Optional: Any wing sauce or dip that you fancy
Instructions:
Begin With a Dry Base: Use paper towels to remove moisture from the wings. This is the secret behind the impeccable crunch.
Season Them Up: Mix the wings in a bowl with olive oil, salt, pepper, garlic, and onion powders. This concoction ensures every bite is flavorful.
Air Fryer's Time to Shine: Preheat to 375°F (190°C). Spread the wings inside, avoiding overlap for even cooking.
Patience is Golden: Let them cook for roughly 25 minutes. Remember to flip at the halfway point for that golden perfection.
Add Some Oomph: If you've got a signature sauce or dip, coat those wings!
Cooking tips:
Maximize Crunch: Never skip the drying phase. It's your ticket to crunch town.
Avoid Clumping: Make sure the wings are spaced out in the Air Fryer for a uniform finish.
Adventure with Tastes: Explore different spices, marinades, or even coatings.
Dips Galore: From tangy to spicy, there's a dip for every palate. Explore!
Storing Surplus: On the off chance there are leftovers, store and reheat in the Air Fryer to retain the crunch.
Prioritize Safety: Always handle the hot Air Fryer basket with care using tongs or mitts.
So, there you have it – your guide to the most irresistible Air Fryer chicken wings. Whether it's a weekend binge or a grand party, this recipe's got your back. Go ahead, wing it! 🍗🌟