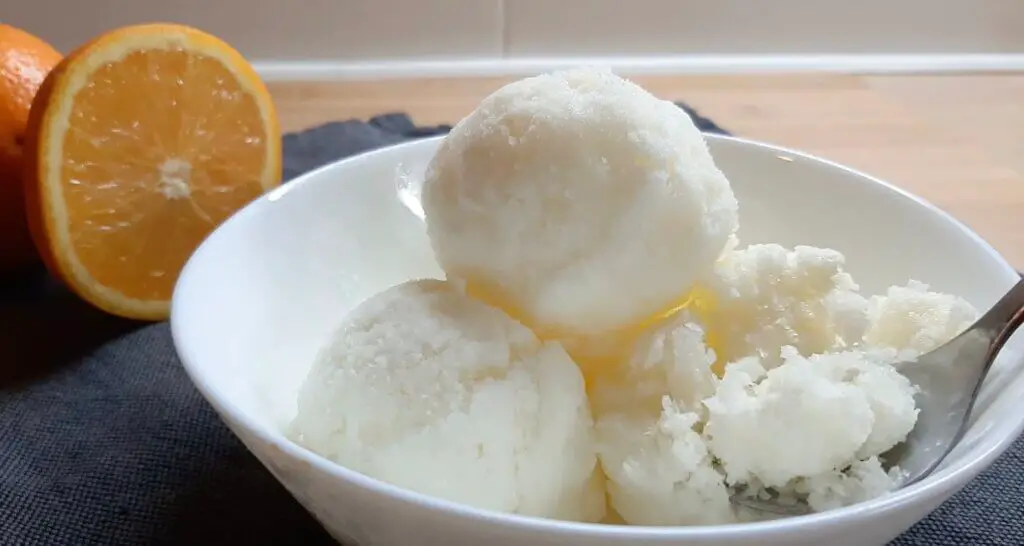 Do you remember the delight of relishing a cold, sweet, and tangy orange sorbet during those hot summer vacations of your youth? I have fantastic news for you – it's time to relive those moments with your very own homemade version of this sunny dessert!
Our delectable orange sorbet recipe promises to whisk you back to those nostalgic summer days with its bold citrus notes and silky-smooth consistency. And here's the surprise – it only calls for two ingredients! Sounds tantalizing, right?
Let's unveil our heroes: a 14-ounce can of sweetened condensed milk and about 1 liter (approximately 33.8 fluid ounces) of your favorite orange soda. Yes, just these two ingredients! Fascinating, isn't it?
The alchemy of these two simple ingredients results in a dessert that's rich and velvety, exploding with the zest of ripe oranges. The secret behind this sorcery is the sweetened condensed milk, which acts as a stabilizer, giving our sorbet its irresistible creaminess.
This homemade orange sorbet isn't only a mouthwatering treat, but it's also a healthier alternative to traditional ice cream. It offers fewer calories and less fat, so you can indulge your cravings guilt-free – sounds ideal, right?
Are you ready to dive into this refreshing culinary adventure? Here's your foolproof, step-by-step guide to creating your very own summer delicacy:

Ingredients:
A 14-ounce can of sweetened condensed milk.
About 1 liter (or 33.8 fluid ounces) of your favorite orange soda.
Instructions:
Combine sweetened condensed milk and orange soda in a bowl.
If using an ice cream maker, churn the mixture for about an hour, then transfer to a freezer-safe container and freeze for 6-8 hours until firm.
If using a blender, pour the mixture into a freezer-safe container and freeze for an hour.
After an hour, stir the mixture well and return it to the freezer.
Repeat the freezing and stirring process every two hours until the sorbet is fully frozen (total time of about 6-8 hours).
Serve and enjoy your homemade orange sorbet!
Optional tips:
If short on time, you can replace the orange soda with frozen orange juice concentrate.
If you want a fresher flavor, you could squeeze fresh oranges.
Store the sorbet in an airtight container in the freezer to maintain its quality.
Remember, this recipe is very adaptable and you're in control of the taste of your sorbet. Enjoy the process!