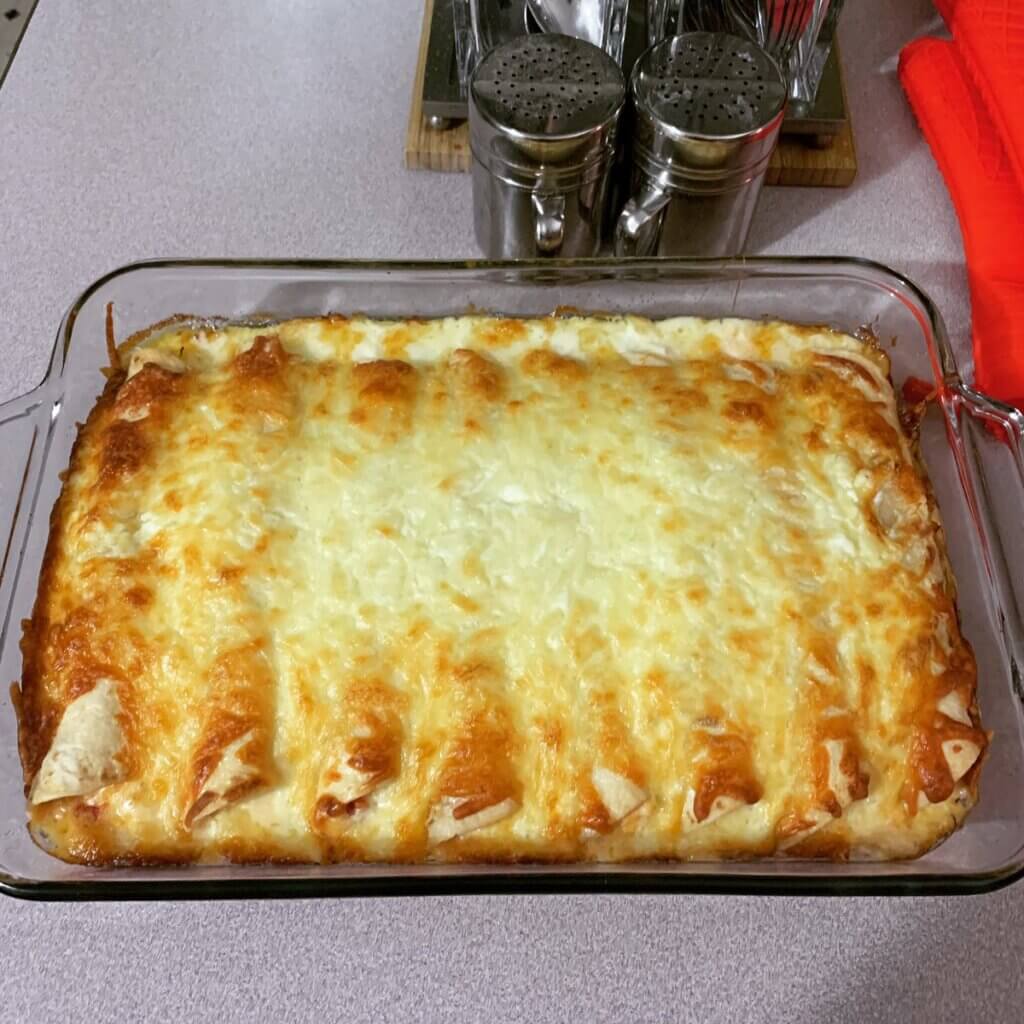 Cream Cheese Chicken Enchiladas is a simple, quick, and utterly tasteful dish that is just perfect any time of the day. It is very continent to make then is a perfect dish when you have a lot of leftover chicken in your refrigerator. Made with simple ingredients, this dish is cheesy, flavorsome, and finger-licking good.
Variation ideas
Here are a few ways you can change this recipe and make it taste even better:
Beans: If you are a bean lover, or simply want another texture into your enchiladas, add cooked black beans to the chicken mixture.
Salsa: Although red enchiladas sauce is the perfect choice for this recipe, you can use green enchiladas sauce as well. Furthermore, you can also use salsa or tomato sauce instead of enchiladas.
Cheese: Use Monterey Jack cheese instead of mozzarella cheese. It melts just fine, and its mild flavor is just right.
How to Store Cream Cheese Chicken Enchiladas?
Store the leftover Cream Cheese Chicken Enchiladas in the refrigerator for up to 3 days. Furthermore, you can also freeze cooked or uncooked enchiladas. Cover the baking dish with aluminum foil and freeze. It will last for up to a month in the freezer. Simply reheat in the oven for about 15 minutes before serving.
Cream Cheese Chicken Enchiladas – The Recipe
Preparation time: 10 minutes
Cooking time: 25 minutes
Total time: 35 minutes
Servings: 4
Ingredients:
8 (8-inch) flour tortillas
2 cups leftover cooked chicken, shredded
1 cup corn kernels
½ cup bell pepper, diced
¾ cup cream cheese softened
¼ cup sour cream
2 cups red enchiladas sauce, divided
1 cup cheddar cheese, shredded and divided
1 cup mozzarella cheese, shredded divided
½ tsp cayenne powder
½ tsp cumin powder
¼ tsp black pepper
salt, to taste
2 tbsp freshly chopped cilantro for garnish
Preparation
In a large bowl, add cream cheese, sour cream, half cup of enchiladas sauce, half cup of mozzarella cheese, half cup of cheddar cheese, cayenne powder, and cumin powder. Mix well so that everything is well combined.
Add pre-cooked shredded chicken, corn, bell pepper and continue to mix until everything is well incorporated.
Prepare a baking dish by spraying it with cooking spray.
Spread half of the enchiladas sauce at the bottom of the baking dish evenly.
Place a tortilla flat on a working station or on a flat plate. Scoop three to four tablespoons of the cream cheese and chicken mixture and place it in the center of the tortilla. Now roll the tortilla up and place it on the baking dish seam-side downwards. Continue until you have filled the dish with all the rolled-up tortillas.
Pour the remaining enchiladas sauce over the rolled tortillas.
Sprinkle remaining mozzarella and cheddar cheese on top.
Place the baking dish in a preheated oven at 325-degree f for about 25 minutes or until the cheese is bubbling and gets a golden color.
Take the baking dish out of the oven and garnish the enchiladas with freshly chopped cilantro. Serve.