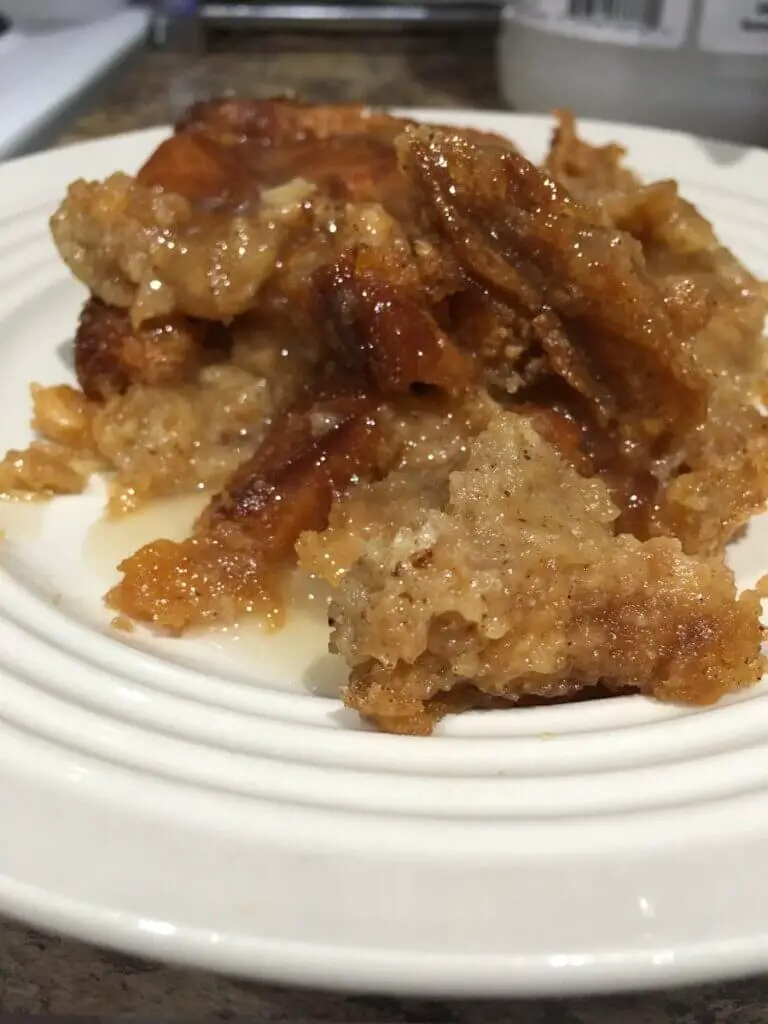 Bread pudding with vanilla sauce is a traditional yet delicious dessert you can enjoy! You can serve it both hot and cold, and they taste so delicious. This dessert is quick to make and is a good choice for brunch, tea parties, and holiday dinners. Try this amazing bread pudding recipe with vanilla sauce at home, and I am sure you will love it!
Tips to remember
Keep a few things in mind when making is traditional bread pudding:
You can use any type of bread you like. Although white bread is the ideal choice, you can go for whole wheat bread as well.
Make sure you don't use fresh bread for this pudding. That's because fresh bread is very soft and soaks up the liquid pretty fast. As a result, the pudding can turn up dry and mushy. Using a day's old or stale bread will retain its texture and body giving you the right consistency of the pudding.
Although this pudding tastes delicious with vanilla sauce, you can also serve it with caramel sauce or chocolate sauce.
Add raisins, dried mulberries, or nuts to give this pudding a unique texture.
How to store bread pudding with vanilla sauce?
You can store the leftover bread pudding by placing it in an airtight container. It will last for up to 5 days in the refrigerator. Moreover, you can also store the vanilla sauce so that you can use it later. It will last for up to 2 days in the refrigerator.
Bread Pudding with Vanilla Sauce: The recipe
Preparation Time: 10 minutes
Cooking Time: 45 minutes
Total Time: 55 minutes
Servings: 4
Ingredients:
8 slices white or French bread
2 cups milk
2 whole eggs
½ cup sugar
¼ cup unsalted butter
1 tbsp vanilla extracts
½ tsp cinnamon
For the vanilla sauce:
1 cup white granulated sugar
½ cup unsalted butter
½ cup half and half
1 tbsp vanilla extract
Preparation:
Cut the bread slices into equal-sized cubes and place them in a greased baking pan.
Crack eggs, pour milk and add sugar, cinnamon, and vanilla extracts in a large bowl. Whisk until everything is well combined and the sugar is dissolved.
Pour this mixture over the bread pieces so that they are soaked in the mixture.
Place this baking tray in a preheated oven at 350 degrees F for about 45 minutes or until the top gets a nice color.
Meanwhile, in a saucepan, pour half-and-half, and add sugar and butter.
Place the saucepan over medium heat and let it come to a simmer. Stir occasionally and cook for about 7 minutes or until the mixture starts to thicken up.
Once it thickens up, remove it from the heat and add vanilla extract. Mix well.
Take the bread pudding out of the oven and let it rest for 10 minutes.
To serve, scoop bread pudding onto the serving plate and top it with vanilla sauce.