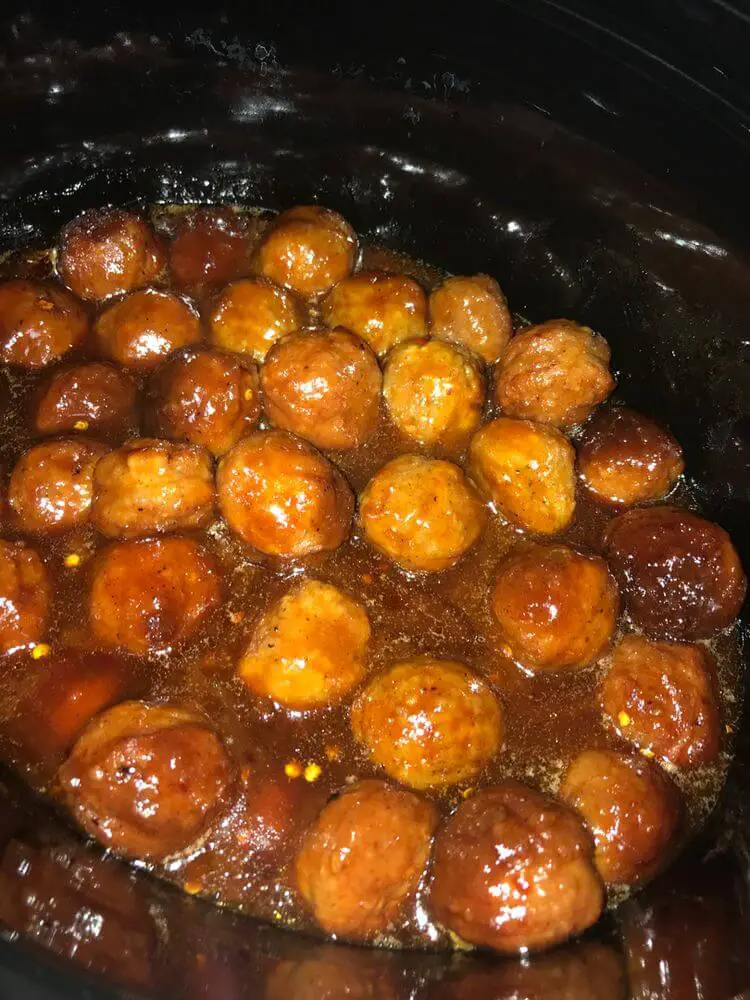 Crock Pot Meatballs are a complete meal! It's ideal for a buffet or a potluck! It's so simple and only requires a few ingredients!
Hands down, let's make the best crockpot meatballs!
I'm going to share the BEST Crockpot Meatballs Recipe you will ever make. This meatball recipe is easy enough for anyone to make, including the most novice cook.
These delicious meatballs have sweet, tangy, and hearty flavors that are sure to please the entire family. Your family will ask you to cook it every week!
These Crockpot Meatballs are an excellent addition to your dinner routine whether you (or your family) are returning to school, returning to the office, or going to continue to work from home. They're quite simple to make and cook for a couple of hours. When they get home from school, work, or other activities, they'll be ready to eat in time for supper.
As a busy person myself, I appreciate the convenience of Crockpot dinners like these frozen meatballs. These are also some of my favorite appetizers. Crockpot meals that are simple to prepare are fantastic.
Whether it's a potluck or Sunday dinner – this recipe is sure to please the crowd and is one that your friends will beg you to make over and over again!
Simple Ingredients!
The best part of this recipe is that it is quite easy to prepare using simple ingredients. The ingredients with exact measurement for this dish are as follows:
•   14 oz. bottle Ketchup 
•   10 oz. jar red currant jelly
•   2-3 tbsp. lemon juice
•   1 cup chili sauce
•   1 cup brown sugar
•   ½ tsp. ginger
•   1 ½ cup water 
•   28-32 oz. bag frozen meatballs
JELLY is a key ingredient in these slow cooker meatballs. Although it seems weird to pair jelly with meatballs, the flavor profile is savory rather than sweet, and the meatballs are quite delicious!
How To Make the Best Crockpot Meatballs?
One of the best things about this recipe is how simple it is to prepare: just toss everything into a crockpot and let it cook. It takes only five minutes of work! I'm a sucker for dump-and-go recipes. The following steps will guide you through the process of making delicious crockpot meatballs.
• Add brown sugar, jelly, chili sauce, ketchup, cold water, ginger, and lemon juice in a crockpot.
• Stir in frozen meatballs until well coated in sauce.
• Cook on high for four hours or low for six-eight hours.
That is all! AMAZING, isn't it?!
Flavor Variations
There are countless ways to tweak the flavor of these meatballs, but here are a few of my favorite:
• A dab of liquid smoke and a smidgeon of mustard
• Cayenne pepper for a kick of heat.
• Substitute little smokies for meatballs.

Recipe Tips
• I used red currant jelly, but you can use grape jelly or apple jelly. They will work well too.
• If you have any leftover meatballs, allow them to cool before storing them in an airtight container. They can be saved in the refrigerator for 3 to 4 days and in the freezer for a month. Reheat in the microwave and enjoy!