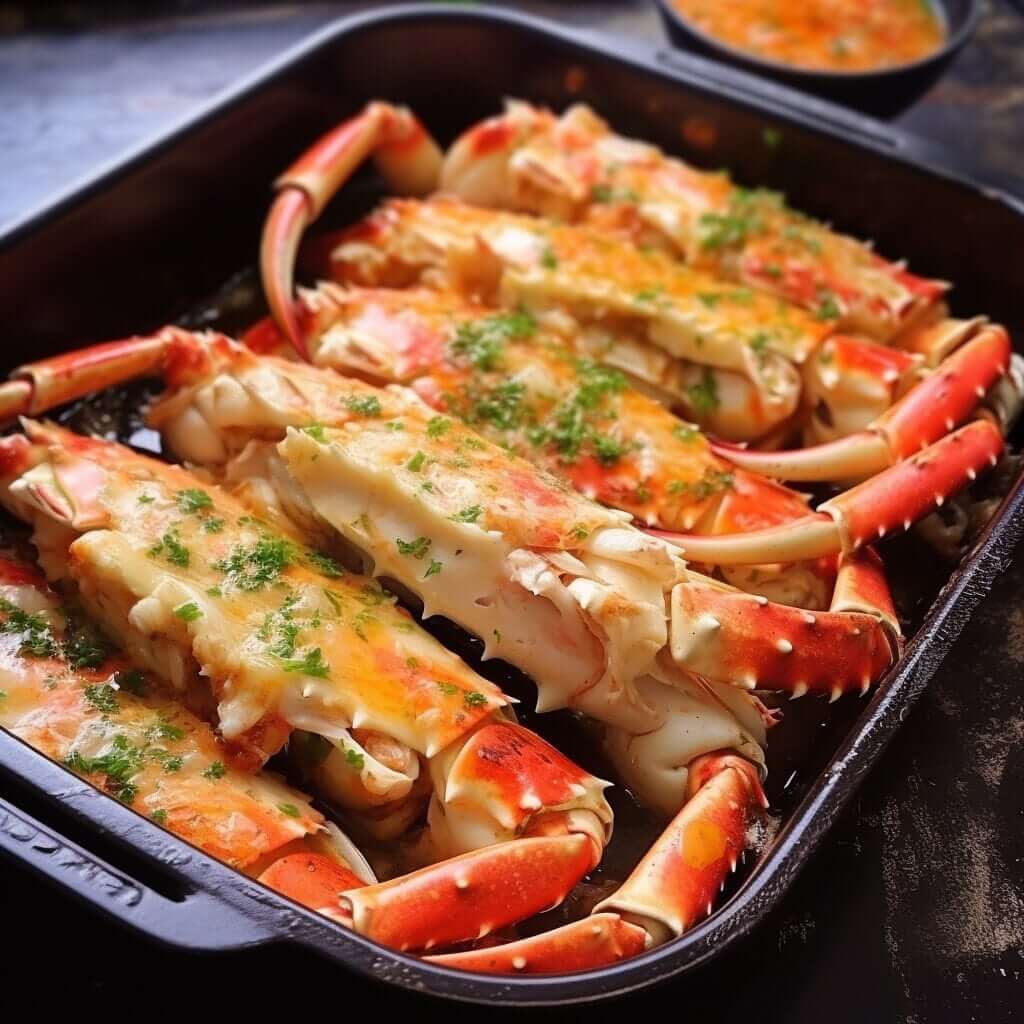 Hello dear readers! I'm so excited to share with you my go-to recipe for succulent, tender baked crab legs drenched in a luscious garlic butter sauce. This dish is perfect for special occasions, date nights, or any time you want to treat yourself to something extra decadent.
As a busy mom of two rambunctious kiddos, I don't often have time for complex recipes with hard-to-find ingredients. That's why I love this baked crab legs recipe – it's fancy enough for guests but easy enough for a weeknight family dinner. The preparation is simple, yet the results are restaurant-worthy. Just pop the crab legs in the oven after brushing them with the flavorful butter mixture, then serve with crusty bread to soak up every last drop of the delicious sauce.
Over the years, I've perfected my technique for preparing tender, succulent crab legs at home. The key is cutting just along the bottom edge of each leg to help the heat penetrate inside while baking. And using both lemon juice and garlic in the buttery sauce gives it a wonderful zing. Every bite is so rich and delicious!
I find myself making this decadent dish again and again for special occasions and cravings. It never fails to impress my family and friends. Now I can't wait for you to try it too!
What kind of crab legs work best for baking?
I recommend using snow crab legs or king crab legs. Their long shape allows you to cut along the bottom shell and their meat bakes up tender and moist.
Should the crab legs be thawed or frozen when baking?
You can bake crab legs successfully whether they are thawed or still frozen. So no need to plan ahead!
What oven temperature should you use?
Bake at 375°F for 12-15 minutes until the crab meat is opaque. This allows it to heat through without overcooking.
How do you enjoy the garlic-parsley butter sauce?
I recommend pouring it over the crab legs right before serving and offering extra for dipping. It complements the tender meat perfectly!
What sides pair well with baked crab legs?
I love serving them with crusty bread, roasted veggies, rice pilaf or a fresh green salad. A nice white wine or sparkling wine also matches well.
Prep Time: 10 mins
Cook Time: 15 mins
Total Time: 25 minutes
Ingredients:
2 pounds snow crab legs or king crab legs, rinsed and patted dry
1/2 cup (1 stick) unsalted butter, melted
3 cloves garlic, minced
2 tbsp fresh lemon juice
1/4 cup minced Italian parsley leaves
Kosher salt and freshly ground black pepper, to taste
Instructions :
Start by preheating your oven to 375°F. This mid-range temperature will allow the crab legs to heat through completely without overcooking the delicate meat. Be sure to give your oven adequate preheat time, about 10-15 minutes.
While the oven preheats, line a large rimmed baking sheet with aluminum foil. The foil makes for easy cleanup! I recommend using a sheet that provides plenty of room to lay the crab legs flat in a single layer, without crowding.
Next, prep the crab legs for baking. Using a sturdy pair of kitchen shears or poultry shears, carefully cut along the bottom side of each leg, exposing the meat inside the shell. Make a lengthwise cut just along the bottom edge, being careful not to cut all the way through the shell. This important step allows the heat to penetrate directly into the crab meat, helping it cook gently and evenly.
Arrange the prepped crab legs in a single layer atop the foil-lined baking sheet. Place them cut side up. Make sure there is a bit of space between each one so they have room to heat through.
In a small bowl, combine the melted butter, minced garlic, lemon juice and Italian parsley. Whisk well to fully incorporate all the ingredients. The garlic and lemon provide a wonderful tangy flavor that pairs perfectly with the sweet crab.
Time to load up that flavor! Use a pastry brush or spoon to generously coat the tops and insides of each crab leg with the herb garlic butter sauce. Really focus on getting the sauce into the openings you cut to infuse that flavor right into the meat.
Give the crab legs a nice sprinkle of kosher salt and freshly cracked black pepper. This adds a touch of seasoning without overpowering the crab's natural sweetness.
Transfer the pan to the preheated oven and bake for 12-15 minutes. Set your timer and check them at 12 minutes. The crab meat should look opaque versus translucent when they are ready. If needed, pop them in another 1-3 minutes until the meat is cooked through.
Carefully remove the hot baking pan from the oven. For the best presentation, transfer the baked crab legs to a serving platter or individual plates.
Any juices left on the baking pan will be full of delicious flavor! Pour them into a bowl to use for dipping.
Now it's time to indulge! Enjoy the tender crab legs dipped in the remnants of that luscious garlic-parsley butter. The richness pairs perfectly with crusty bread, white wine, or sparkling cider.
Cooking Tips:
For the absolute easiest prep, purchase crab legs that are already split for you. Then simply brush on the sauce and bake.
Feel free to play around with different herb combinations in the butter sauce. Tarragon, dill, chives would all be delicious.
Serve any leftover butter sauce within 3-4 days for the best flavor.
These crab legs reheat wonderfully! Leftovers can go right back in a 375°F oven for 5 minutes until warmed through.